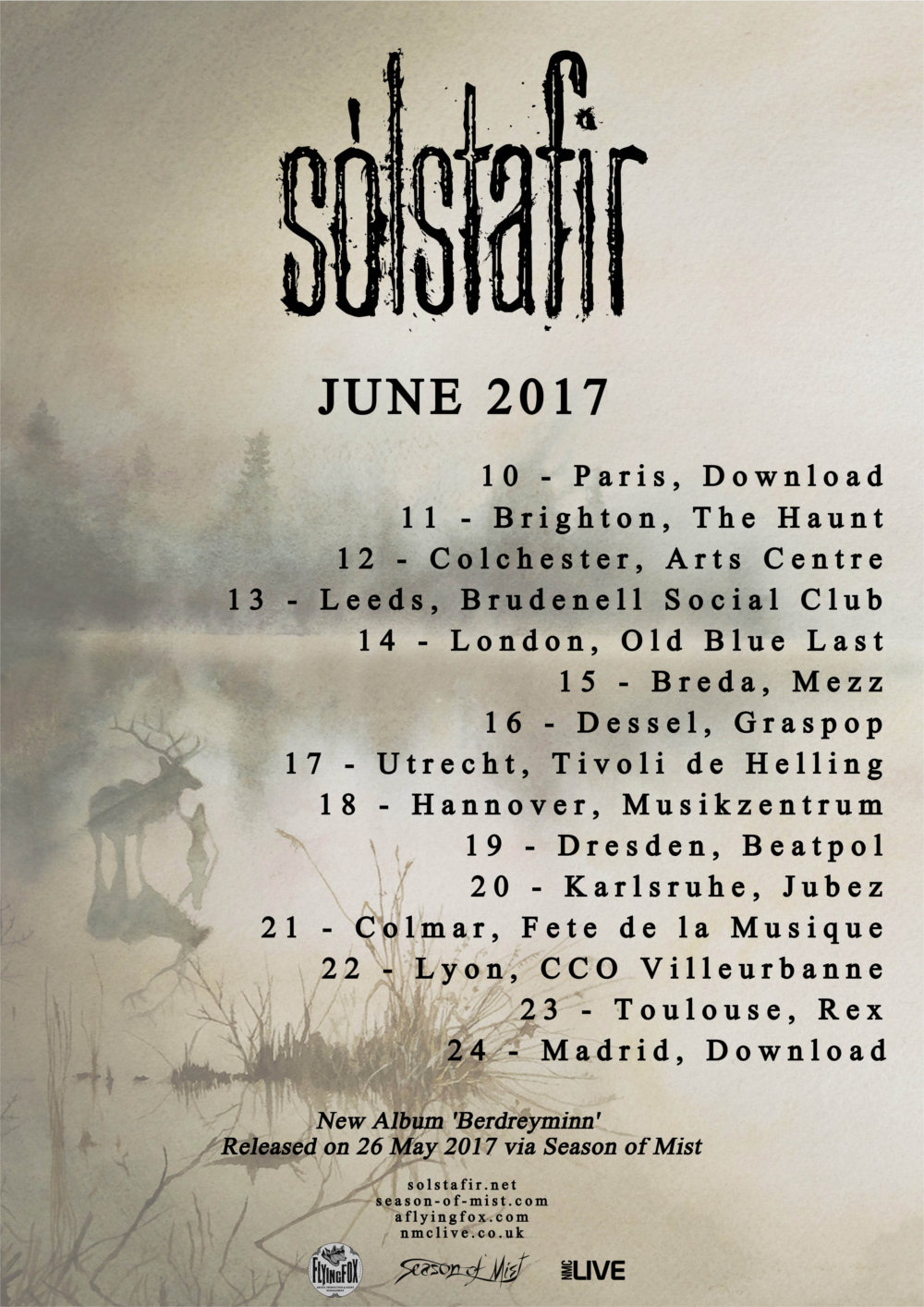 Acclaimed Icelandic rock band SÓLSTAFIR have embarked on their headlining European tour. The tour begins tomorrow in Paris at Download Festival, and sees the band playing shows at Graspop Metal Meeting, Eistnaflug, Midgardsblot Festival, and more. A full list of confirmed tour dates can be found below.
SÓLSTAFIR are touring in support of their new album, 'Berdreyminn'. The album, produced by Birgir Birgirsson (SIGUR RÓS, ALCEST) and Jaime Gomez-Arellano (GHOST, PARADISE LOST, ULVER), is lauded as "a compelling journey that offers '80's-style synths, chuggy rock riffing, Pink Floyd-y prog overtones, sweeping Fields of the Nephilim guitars, haunting orchestral arrangements and occasional metallic crunch" (Decibel Magazine) and is available across multiple formats at the Season of Mist E-Shop.
Berdreyminn is streaming here.
SÓLSTAFIR recently released a video for the new track "Silfur-Refur". The video, a stunning piece directed by Nico Poalillo (LINKIN PARK, GHOST, CHELSEA WOLFE) & Peter Beste (GORGOROTH, IMMORTAL, and more) is streaming now at Revolver Magazine.
The album cover and track list for 'Berdreyminn' can be found below.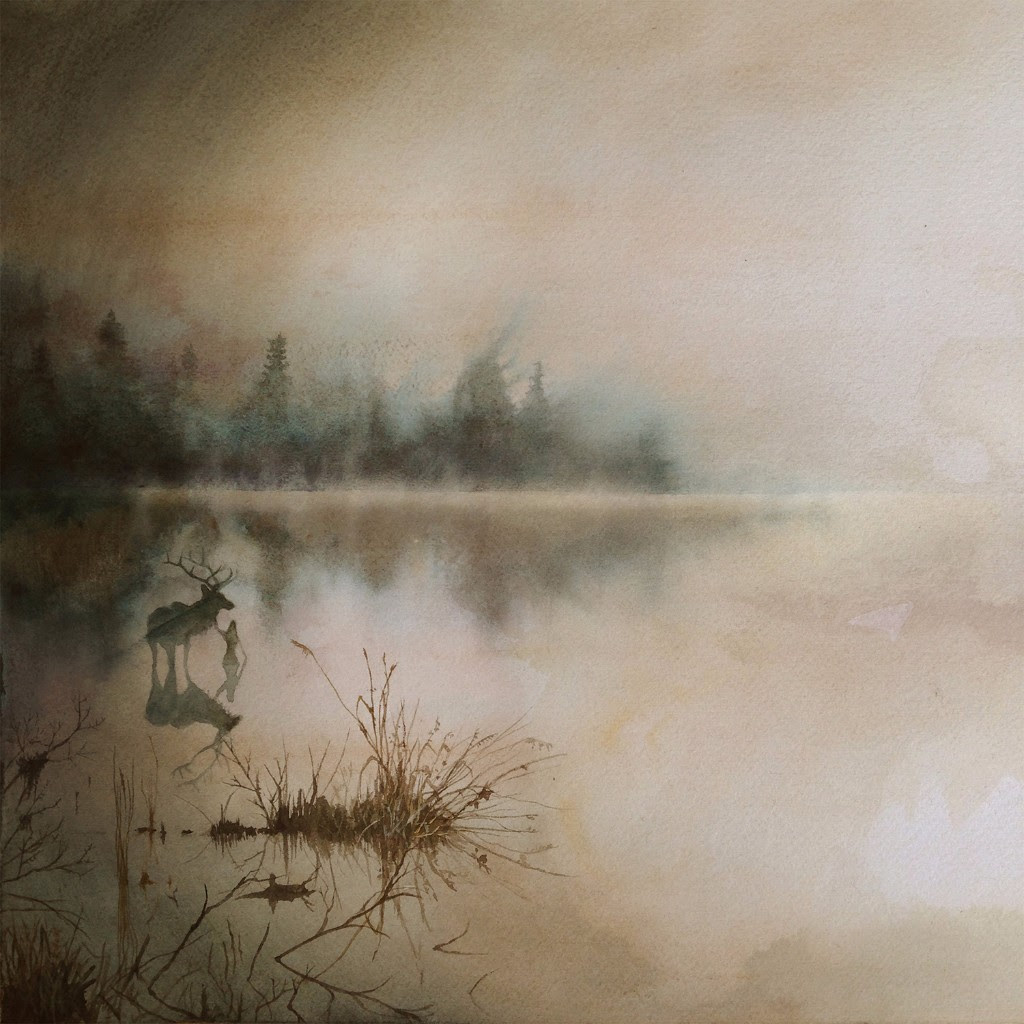 Cover art by Adam Burke
Track list:
1. Silfur-Refur
2. Ísafold
3. Hula
4. Nárós
5. Hvít Sæng
6. Dýrafjörður
7. Ambátt
8. Bláfjall
'Berdreyminn' on Bandcamp
'Berdreyminn' on Spotify
Updated SÓLSTAFIR news will be made available at the Season of Mist website, and the SÓLSTAFIR website, Facebook and Twitter pages.
SÓLSTAFIR tour
Jun. 10 Paris (FR) @ @ Download Festival (tickets)
Jun. 11 Brighton (UK) @ The Haunt (tickets)
Jun. 12 Colchester (UK) @ Arts Centre (tickets)
Jun. 13 Leeds (UK) @ Brudenell Social Club (tickets)
Jun. 14 London (UK) @ Old Blue Last (tickets)
Jun. 15 Breda (NL) @ Mezz (tickets)
Jun. 16 Dessel (BE) @ Graspop Metal Meeting
Jun. 17 Utrecht (NL) @ Tivoli de Helling (tickets)
Jun. 18 Hannover (DE) @ Musikzentrum (tickets)
Jun. 19 Dresden (DE) @ Beatpol (tickets)
Jun. 20 Karlsruhe (DE) @ Jubez (tickets)
Jun. 21 Colmar (FR) @ Fete de la Musique (tickets)
Jun. 22 Lyon (FR) @ CCO Villeurbanne (tickets)
Jun. 23 Toulouse (FR) @ Rex (tickets)
Jun. 24 Madrid (ES) @ Download Festival
SÓLSTAFIR festival dates
Jul. 7 Neskaupstaður (IS) @ Eistnaflug Festival (Exact date tba)
Jul. 29 Neuensee bei Lichtenfels (DE) @ Rock im Wald
Aug. 18 Borre (NO) @ Midgardsblot Festival 2017 (Exact date tba)
If you enjoyed this article, Get email updates (It's Free)
Use Facebook to Comment on this Post