EXIT EDEN RELEASE NEW VIDEO FOR "IMPOSSIBLE"!
New Symphonic Metal All-star Band EXIT EDEN is getting closer to the release date of their long awaited debut album "Rhapsodies in Black"!
The four critically acclaimed singers Amanda Somerville, Clémentine Delauney, Marina La Torraca and Anna Brunner, are ready to release the next video from
"Rhapsodies in Black"
showing just how easily and majestically a pop hit can be turned into a true rock anthem! Originally performed by X Factor finalist James Arthur,
EXIT EDEN
's version of the hit single
"Impossible"
makes you bang your head like you would never expect! Check out the video
HERE
!
"Rhapsodies in Black"
will be released on
August 4th
via Napalm Records (Starwatch for GSA) and can be pre-ordered
HERE
!
"Rhapsodies in Black" tracklist:
1. Question Of Time
2. Unfaithful
3. Incomplete
4. Impossible
5. Frozen
6. Heaven
7. Firework
8. Skyfall
9. Total Eclipse
10. Paparazzi
11. Fade To Grey
For more info on EXIT EDEN visit:
_______________________________________________________________

KOBRA AND THE LOTUS RELEASE BRAND NEW VIDEO!
New Album 'Prevail I' Out Now + On Tour Soon!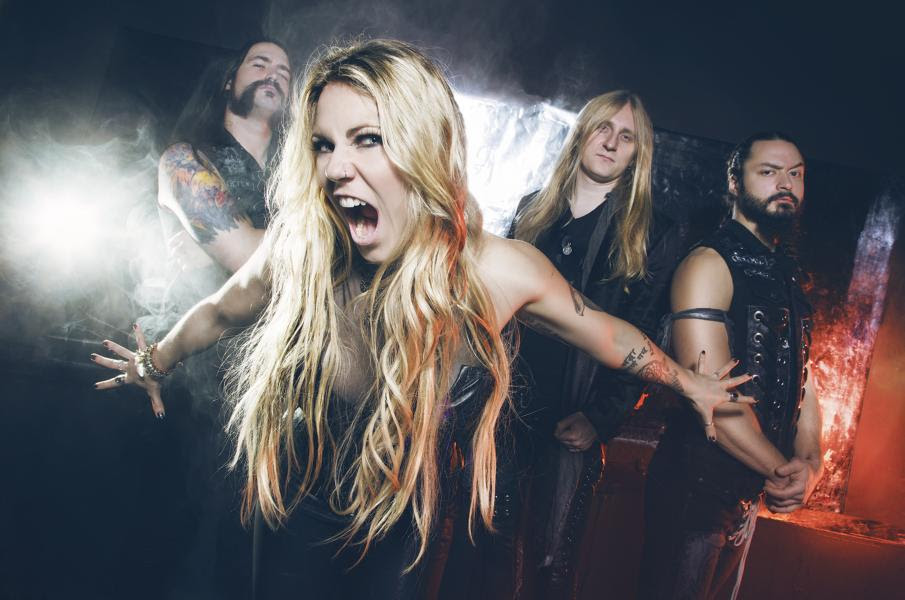 Canada's hottest metal import and rock juggernauts KOBRA AND THE LOTUS released their brand new album 'Prevail I' May 12nd on Napalm Records. Now the band fronted by charismatic vocalist Kobra Paige unleashes the official video for their song 'Light Me Up'!
Watch KOBRA AND THE LOTUS' new video right HERE!
Says Kobra Paige: "
Music is the universal language. Because of this quality, it has immense capacity to heal and bring people hope and strength. We are so much stronger than we know but at times our faith in ourselves can be tested. More specifically our sense of purpose can be tested. When we lose our purpose, we stop believing in ourselves, our desire to fight for this lifetime begins to fade. This song is extremely close to our hearts and holds an intention that we hope will translate into helping others to not give up on themselves. Everyone matters. Never forget this… no single person has it all figured out no matter how composed they appear. For the people that feel they have no one to turn to, I hope our songs find you in your deepest hour of need. May it lift you up just enough to remind you that somehow, in some way, we all fit into this picture we call life. Let's bring awareness to depression. Let's bring awareness to the fact that everyone has a story that we don't know. It's ok to not be ok sometimes."
Prevail I, the band's latest offering, is full of blistering guitars, pounding rhythms and haunting vocal melodies that take the listener on a sonic journey leading them out from the darkness and into the light. The album was produced by Jacob Hansen (Volbeat, Amaranthe, Epica etc), mastered by Grammy award winning Ted Jensen, and features the soon to be classic song 'Light Me Up' that will undoubtedly usher the band to much deserved elevated hard rock status.
Evolution is inevitable and
KOBRA AND THE LOTUS
have delivered their most powerful album to date, '
Prevail I'
, with
'Prevail II'
to complete the story in the not too distant future…
Purchase your copy of 'Prevail' under the following link:
http://smarturl.it/Prevail-I-NPR
In support of the brand new album, KOBRA AND THE LOTUS will heavily hit the road this year!
Make sure to catch the band live on the following dates:
FESTIVAL SHOWS:
27.07.17 SI – Tolmin / Metaldays
19.08.17
SK – Zvolenska Slatina / More Than Fest
In support of STEVE HARRIS BRITISH LION:
06.08.17
DE – Berlin / Frannz Club
07.08.17
DE – Nuremberg / Der Hirsch
11.08.17
DE – Cologne / Luxor
12.08.17
DE – Osnabrueck / Bastard Club
13.08.17
DK – Copenhagen / VEGA
In support of THE HAUNTED:
03.11.17
FIN – Tampere / Olympia
04.11.17
– FIN – Helsinki / Nosturi
05.11.17
– FIN – Turku / Gong
HEADLINING DATES:
NOV 16 2017
IT Rome / Traffic Live Club
NOV 17 2017
IT Rozzano / Circolo Svolta
NOV 18 2017
CH Wetzikon / Hall Of Fame
NOV 22 2017
UK Southampton / Talking Heads
NOV 23 2017
UK Milton Keynes / Crauford Arms
NOV 24 2017
UK Manchester / Rebellion
NOV 25 2017
IRE Dublin / The Rox
NOV 26 2017
UK Belfast / Voodoo
NOV 28 2017
UK Glasgow / The Audio
NOV 29 2017
UK Newcastle / Think Tank
NOV 30 2017
UK Wolverhampton / Slade Rooms
DEC 1 2017
UK Bridgwater / The Cobblestones
DEC 2 2017
UK Sheffield / Corporation
DEC 3 2017
UK London / Underworld
In support of BEYOND THE BLACK:
07.12.17
DE – Cologne / Essigfabrik
08.12.17
DE – Aschaffenburg / Colos Saal
09.12.17
DE – Karlsruhe / Substage
11.12.17
DE – Munich / Backstage
12.12.17
DE – Leipzig / Hellraiser
14.12.17
DE – Hamburg / Markthalle
15.12.17
DE – Berlin / SO36
16.12.17
DE – Bochum / Matrix
17.12.17
DE – Saarbruecken / Garage
For More Info Visit:
__________________________________________________________________________
THE MIDNIGHT GHOST TRAIN PREMIERE VIDEO FOR 'TONIGHT' VIA NEW NOISE MAGAZINE!
New Album 'Cypress Ave.' Out On July 28th!
On
July 28th
the wait is finally over, as Kansas' blues rockers
THE

MIDNIGHT

GHOST TRAIN
willreturn with their brand new album '
Cypress Ave.
'! This impulsive trifecta torch dark'n'dirty Southern Rock with a massive dose of the Blues, Sludge and Funk, while also showing a new side of themselves like you have never heard the band before. '
Cypress Ave
.' will not just please fans of
THE

MIDNIGHT

GHOST TRAIN
but will enthrall and impress new fans as well. '
Cypress Ave.
'! is
THE

MIDNIGHT

GHOST TRAIN
's most diverse and surprising album to date!
Now the band fronted by the mighty blues vocalist Steve Moss, has released a brand new and stunning video for the song 'Tonight'. The video fantastically represents the entire album vibe and spirit of a unique city. Take a walk and drift in the streets of New York and watch THE MIDNIGHT GHOST TRAIN's new video right HERE, courtesy of New Noise Magazine.
"Getting a chance to produce a video like this was an absolute blast." Says band mastermind Steve Moss "We were tired of seeing all the same type of rock videos out there; so we decided to mix heavy rock with tap dance. It's an unconventional idea, and a big risk we took to mold these different styles together, but it worked out so well. This is our favorite music video we have done thus far." Thank you to Reggie TapMan Myers for killing it for us."

The track list of 'Cypress Ave.' will read as follows:
1. Tonight
2. Red Eyed Junkie Queen
3. Glenn's Promise
4. Bury Me Deep
5. The Watchers Nest
6. Break My Love
7. Lemon Trees
8. The Boogie Down [ feat. Sonny Cheeba ]
9. Black Wave
10. The Echo
11. I Can't Let You Go [ Bonus Track ]
Pre-Orders of 'Cypress Ave.' are available under the following link:
http://smarturl.it/CypressAve-NPR
In support of the band's upcoming album, THE MIDNIGHT GHOST TRAIN will heavily hit the road this year again, kicking off with an extensive US tour this summer. Make sure to catch THE MIDNIGHT GHOST TRAIN, and their very energetic live shows, here:
THE MIDNIGHT GHOST TRAIN:
8/24: Ft. Worth, TX @ The Grotto
8/25: Austin, TX @ Swan Dive
8/26: Lafayette, LA @ Boom Boom Boom
8/27: New Orleans, LA @ Siberia
8/28: Jackson, MC @ TBA
8/29: Hattiesburg, MS @ TBA
8/30: Muscle Shoals, AL @ TBA
8/31: Pensacola, FL @ Handlebar
9/1: Charlotte, NC @ Snug Harbor
9/2: Atlanta, GA @ Masquerade W/ Camp Lo
9/3: Richmond, VA @ Banditos
9/6: Baltimore, MD @ TBA
9/7: Washington, DC @ Atlas Brew Works
9/8: Philadelphia, PA @ Kung Fu Neck Tie
9/9: Brooklyn, NY @ Gold Sounds
9/10: Connecticut @ TBA
9/11: Providence, RI @ Firehouse 13
9/12: Boston, MA @ O'Brien's Pub
9/13: Rochester, NY @ TBA
9/14: Cleveland, OH @ TBA
9/15: Indianapolis, IN @ Radio Radio
9/16: Detroit, MI @ The Rockery
9/17: Kalamazoo, MI @ TBA
9/18: Madison, WI @ Frequency
9/19: Green Bay, WI @ Gasoline
9/20: Dubuque, IA @ The Lift
9/21: Chicago, IL @ Reggie's Music Joint
9/22: Lexington, KY @ Green Lantern
9/23: Newport, KY @ Southgate House Revival
9/24: Nashville, TN @ TBA
9/25: Charleston, SC @ TBA
9/26: Raleigh, NC @ TBA
9/27: Charleston, WV @ The Empty Bottle
9/28: Canton, OH @ The Buzzbin Shop
9/29: Dayton, OH @ Blind Bob's
9/30: Pittsburgh, PA @ Descendants of Doom Fest*
*Festival
If you enjoyed this article, Get email updates (It's Free)
Use Facebook to Comment on this Post