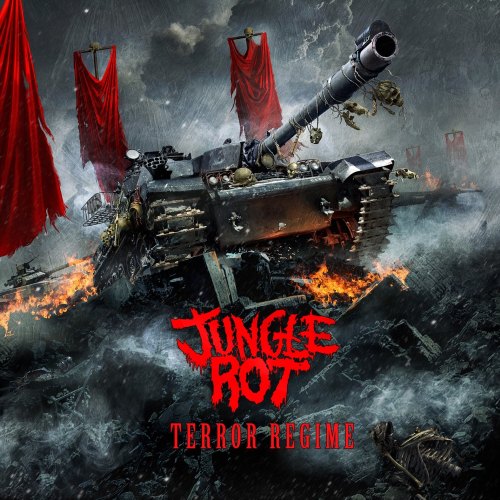 If you ever wondered what's good about Kenosha, Wisconsin nothing really comes to mind other than Jungle Rot.  Now these guys have been around for quite a long time since 1995 they have been in the scene.  One of many underrated underground bands Jungle Rot has released 9 albums over the course of their career.  This is the bands second album with Victory Records and its great to see such a hard-working band whose progressed so much over the years and never given up. With an incredibly original name with many dedicated fans from near and far only one  keeps them coming back for more has to be their awesome sound that is influenced by thrash, death and so much more.
Terror Regime really slowed things down and switched to a more thrash tempo influenced beat.  Dave Matrise vocals are still classic sounding death metal with a hint of hatred.  Compared to Kill On Command (2011) which was their previous album the band went with a totally different directions.  Now for old fans you can tell you can appreciate this album because you can see the progression of the band over the years and see how their career has been shaped and formed.  Terror Regime has a very old-fashioned album as if the band really got in touch with their roots when they wrote this record.  The title track on the album Terror Regime can't get anymore thrash in regards to drums.  When you hear it you'll completely understand, it's a song that for sure is going to get things started in the pit.   Blind Devotion is a more heavy darker song on the album, this song is great because they really played with the tempo speeding things up and slowing things down in a creative manner.  The way the song is composed will have you all over the place its a departure from the other songs on the album but still ties in nicely.
Jumping to the 6th song on the album Scorn has a great guitar rift intro that has some great speed.  This is one of the tracks on the album that definitely highlights guitar more.  I Don't Need Society is very clever.  After you listen closely to the opening lyrics it's a rebellious and filled with angst and aggression.  All these 3 things are the perfect ingredients to make a killer song but this is a DRI cover.  It was something new and different to see on this album.  Quite the nice surprise.  Now the album comes to an end with Pronounced Dead of course its in your face not letting you forget who you just listened to.  Jungle Rot.
Over all looking and listening to the album Terror Regime you can visibly see how Jungle Rot took the time to come up with a concept.  The album cover to title of the songs all come together and are relevant to each other.  It's great to see bands that have meaning and purpose behind their work.  The album itself is different from their previous work but great over all.
Track List:
1. Voice Your Disgust
2. Terror Regime
3. Utter Chaos
4. I Am Hatred
5. Blind Devotion
6. Scorn
7. Rage Through the Wasteland
8. Ruthless Omnipotence
9. I Don't Need Society
10. Carpet Bombing0
11. Pronounced Dead
Total playing time: 34:33
Genre: Old school Death/thrash
Record Label: Victory Records

Links:
https://www.facebook.com/igotjunglerot
http://www.victoryrecords.com/junglerot
If you enjoyed this article, Get email updates (It's Free)
Use Facebook to Comment on this Post