Italian deathpunk band HIEROPHANT have embarked on a headlining European tour. The tour begins tomorrow tonight in Tuoro sul Trasimeno, Italy, and will travel throughout February. Following these dates, HIEROPHANT will continue touring throughout March across the UK and Netherlands. A full list of confirmed tour dates can be found below.
HIEROPHANT are touring in support of their vicious new album, 'Mass Grave'. The album, a chaotic, teeth-gnashing journey through grindcore and death metal is streaming now, here.
'Mass Grave', described as "vicious, hateful, wonderful stuff, plundering the best sounds from the best bands and mixing in some shrapnel of their own, delivering a perfectly ripping blast of nihilistic noise" (Stereogum) is HIEROPHANT's fourth album and first with Season of Mist, and is available at the Season of Mist E-Shop.
Regarding the tour, the band comments: "HIEROPHANT comment: "We are very stoked to hit the road again. We are starting with a run of Italian shows and another in the UK will follow right after that. We can be nothing but grateful for all the support we got lately. Mark your date in the calendar and see you in the grave!"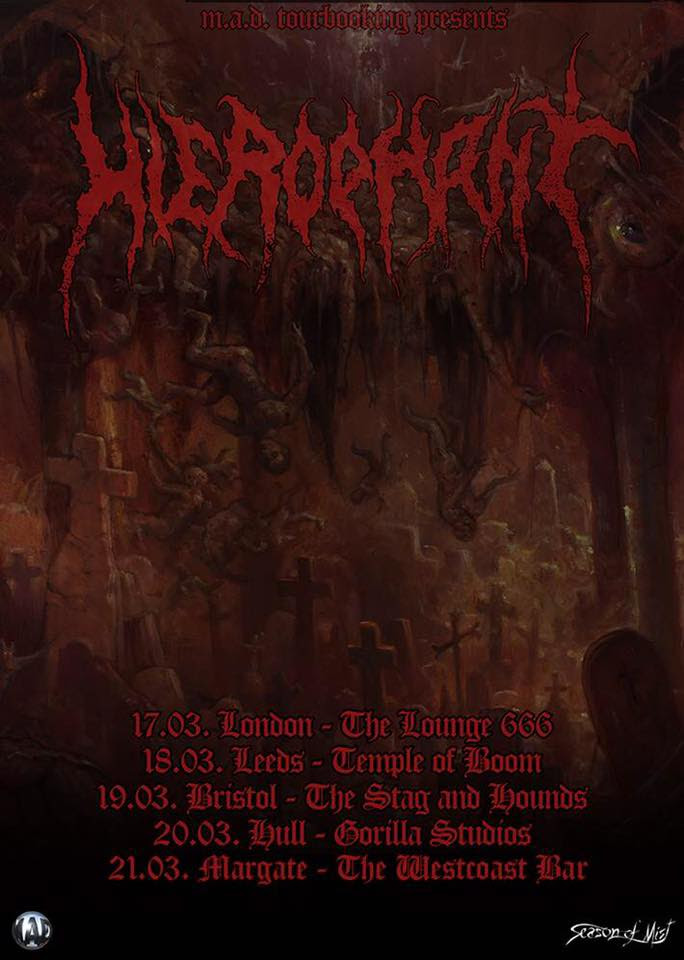 'Mass Grave' was recorded at The Pit Recording Studio (NAILS, TWITCHING TONGUES, DISGRACE, XIBALBA, ACxDC, and more) with Taylor Young of NAILS. 'Mass Grave' features artwork from Paolo Girardi ( POWER TRIP, BLACK BREATH, INQUISITION).
The artwork and track list for 'Mass Grave' can be seen below:
Track List:
1. Hymn of Perdition
2 Execution of Mankind
3 Forever Crucified
4. Mass Grave
5. Crematorium
6. In Decay
7. Sentenced to Death
8. Hierophant
9. Trauma
10. Eternal Void
Photo by Matteo Bosonetto (Miseria Nera)
Established in 2010 in Italy, HIEROPHANT (feat. former members of THE SECRET) have since cut their teeth in the underground grind and hardcore scenes through the release of three well-received full lengths and several tours across Europe. The band's aggressive take on extreme hardcore and metal amalgamates massive sonic impact with tinges of sludge, death and black metal, and a visceral punk attitude.
HIEROPHANT news and updates will be made available through the Season of Mist website, the HIEROPHANT Facebook page.
HIEROPHANT tour dates:
Italy & Switzerland
Jan. 21 Tuoro sul Trasimeno (IT) @ Circolo Supernova
Feb. 3 Bologna (IT) @ Freakout Club
Feb. 10 Crema (IT) @ Paniere Il Circolo
Feb. 11 Calenzano (IT) @ Cycle Club
Feb. 12 Fribourg (CH) @ Nouveau Monde
Feb. 17 Santeramo in Colle (IT) @ Mocambo
Feb. 18 Squinzano (IT) @ Istanbul Café
Feb. 19 Pescara (IT) @ Scumm
UK & Netherlands
Mar. 16 Dordrecht (NL) @ Bibelot
Mar. 17 London (UK) @ The Lounge 666
Mar. 18 Leeds (UK) @ Temple of Boom
Mar. 19 Bristol (UK) @ The Stag and Hounds
Mar. 20 Hull (UK) @ Gorilla Studio
Mar. 21 Canterbury (UK) @ The Westcoast Bar
If you enjoyed this article, Get email updates (It's Free)
Use Facebook to Comment on this Post