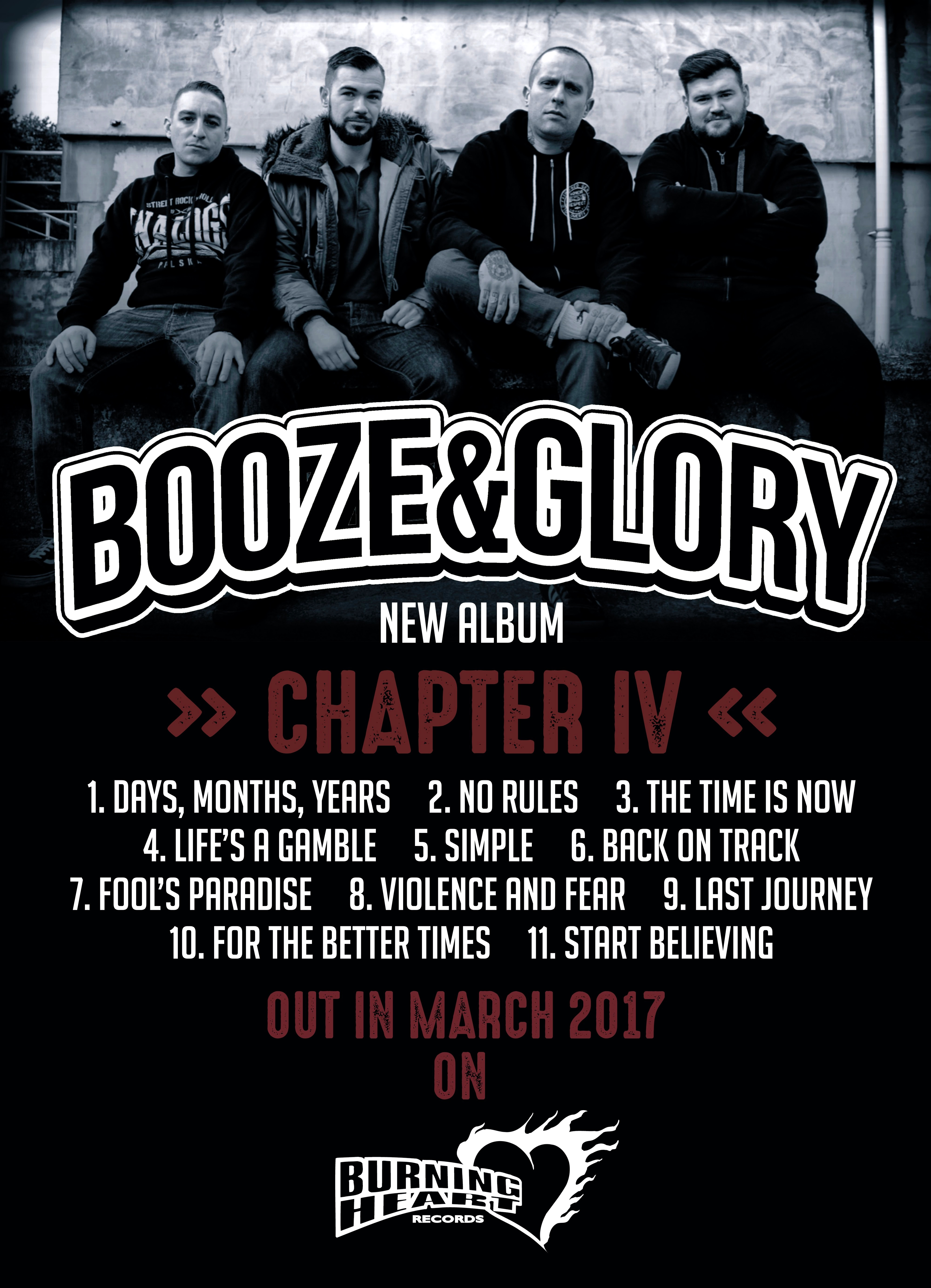 BOOZE & GLORY completed recording their long awaited and highly anticipated new album Chapter IV. The album will be released worldwide with influential Swedish label Burning Heart Records. The band can now confirm a March 2017 release. Today the track listing has been revealed. The album artwork, official release date and first single will be made available soon.

The Orebro based label who also just signed Guida have a great pedigree that includes introducing the world to such as The Hives, Parkway Drive, Turbonegro, Refused, The (international) Noise Conspiracy and Millencolin among many others. While the label is rooted in Sweden, its talent is rapidly infiltrating various markets across the globe, including the U.S.
BOOZE & GLORY just recently laid waste to a sold-out London show at The Underworld where they aired a couple of new songs alongside fan favourites. As part of a long-term push to promote the new record they have already confirmed two shows.
First up is an intimate return to London show at the legendary 100 Club onFriday April 21, 2017 where The Warriors, Knock Off and Angry Itch will join them. Get tickets here. Check out fan footage from recent sell out show at The Underworld, London here.
Following that the band is confirmed to appear at this year's Punk Rock Bowling in Las Vegas, NV May 26th – 29th. In addition BOOZE & GLORY are finalizing details for a North American tour, which will be announced soon.
Also announced is an appearance at Hellfest 2017 which takes place in Clisson, France between June 16th – 18th 2017 and features a line up of over a hundred acts alongside headliners Deep Purple, Aerosmith and Linkin Park as diverse as Slayer, Rancid, Electric Wizard, The Damned, Ministry, Suicidal Tendencies, Monster Magnet and many more. For tickets and more info go here. Look for more European Festival appearances to be announced in the coming weeks as well!
Born on the mean streets of London, England BOOZE & GLORY are now very much an intercontinental outfit featuring MARK (Vox / Guitar), LIAM (Guitar / Vox), BUBBLES (Bass) and FRANK PELLE (Drums). You'll be hearing more from them real soon!
Connect with BOOZE & GLORY online at:
If you enjoyed this article, Get email updates (It's Free)
Use Facebook to Comment on this Post