After three years on and off the road, Kamelot released their 10th studio album, and the second one with Tommy Karevik on vocals. Haven, is an album that continues where Silverthorn left off. Musically is heavy, dark, but also has some bright pieces here and there, lyrically is melancholic, aggressive, and pushes the band's sound towards a new direction without compromising the style of the band.
With Haven out, Kamelot started a full North American tour that ended a couple of days back in their home state, Florida, They came through Tempe, AZ a week ago with a full production, new songs in the setlist, and all the desired to win over the Marquee Theater (which they did), as in previous occasions Kamelot filled out the venue, but this time it was quite different, they were not on a club gig or a supporting band, they headlined the show which the attendance reflects how the fan base of Kamelot had grown.
I remember seeing Kamelot for the first time at The Clubhouse in 2005 in front of a handful of people, then again in 2011 at the same venue with a full house, and now with double the attendance they played an amazing two-hour set that combined songs from their different eras. From Karma to The Black Halo, and from Poetry For The Poisoned to Haven, and everything in between. Is not doubt that this band have worked really hard to be where they are now, and that every album they release is a reflection of the heart and soul every one of the band members pours into it.
Overall, it was great to listen how tight and how whole they sounded, and how much their fan base had grown, but I think that the most important part is seeing how a band like Kamelot with a musical style that is not too fitting within the american metal mentality (think of it being more Thrash and death metal oriented), they had rise to the challenge and had gone from being an opening band to a worldwide household.
I also should mention that with Haven they reached the #1 spot in the Billboard hard rock chart, and several other high spots in different charts, only a week after the album was released, while the band was on the road, which it was something new for them, and again reflect on how good and appealing the new material is not new and old fans of the band.
Before the show here in Tempe, AZ we had the chance to seat with Tommy Karevik vocalist of Kamelot and talked about the tour, Haven, the charts, their North American fall tour, and an update on Seventh Wonder.
Pictures: Kamelot at Marquee Theater. Tempe, AZ (05/15/15)
KAMELOT North American Tour Leg Two
with Dragonforce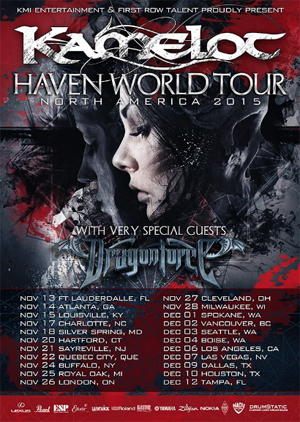 11.13 – Fort Lauderdale, FL, USA – Revolution
11.14 – Atlanta, GA, USA – The Masquerade
11.15 – Louisville, KY, USA – Expo Five
11.17 – Charlotte, NC, USA – The Fillmore Charlotte
11.18 – Silver Spring, MD, USA – The Fillmore Silver Spring
11.20 – Hartford, CT, USA – The Webster Theater
11.21 – Sayreville, NJ, USA – Starland Ballroom
11.22 – Québec City, QC, CA – Impérial de Québec
11.24 – Buffalo, NY, USA – Town Ballroom
11.25 – Royal Oak, MI, USA – Royal Oak Music Theatre
11.26 – London, ON, CA – London Music Hall
11.27 – Cleveland, OH, USA – Cleveland Agora
11.28 – Milwaukee, WI, USA – The Rave
12.01 – Spokane, WA, USA – Knitting Factory
12.02 – Vancouver, BC, CA – Vogue Theatre
12.03 – Seattle, WA, USA – The Showbox
12.04 – Boise, ID, USA – Knitting Factory
12.06 – Los Angeles, CA, USA – The Regent Theater
12.07 – Las Vegas, NV, USA –

House of Blues

12.09 – Dallas, TX, USA – House of Blues
12.10 – Houston, TX, USA – House of Blues
12.12 – Tampa, FL, USA – The Ritz Ybor
kamelot.com
facebook.com/kamelotofficial
twitter.com/kamelotofficial
youtube.com/user/kamelotofficial
kamelotofficial.tumblr.com/
instagram.com/kamelotofficial
If you enjoyed this article, Get email updates (It's Free)
Use Facebook to Comment on this Post