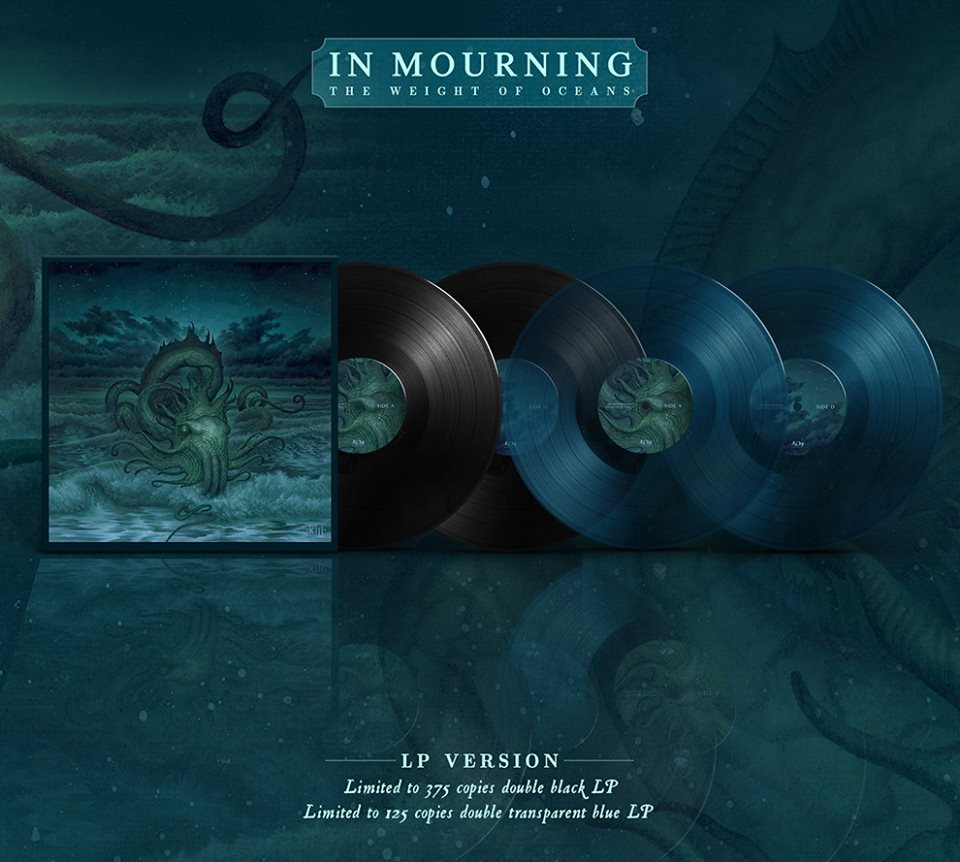 Swedish progressive melodeath/doom metal band IN MOURNING will release their former album, the 2012's "The Weight Of Oceans" for the first time in vinyl format. The release is set for August 26th via Agonia Records and pre-orders are already available. A range of new T-shirt merchandise will accompany this release, featuring the album's cover artwork made by Kristian Wåhlin (Bathory, Tiamat, King Diamond)  in various colour combinations.  
"The Weight Of Oceans" will be available in the following formats:
– Limited to 375 copies double black LP.
– Limited to 125 copies double transparent blue LP.
– Exclusive T-shirt in 4 different versions (pictures below).
Pre-orders are currently available at this link.

"The Weight Of Oceans" is a mythology inspired conceptual story that journeys to the sea. Musically, the group blends a broad spectrum of influences into a foundation of melodic death metal. Thrusting from doomy metal-riffs, blasting drumbeats and deep growling vocals to calm breezes of clean flowing melodies and harmonies.
Hailed by many as the heir to Opeth's melodeath throne, IN MOURNING was formed in the Swedish woods in the year 2000. Since then the band has evolved over the years striving to refine its sound to what it is today.
Their new album "Afterglow" was released on May 20th, 2016 via Agonia Records. It takes off where the previous one, "The Weight Of Oceans", ends. It's more complex, yet more alive, with key IN MOURNING elements – and a few new twists and turns.
Line-up:
Tobias Netzell – guitars & vocals
Pierre Stam – bass
Björn Pettersson – guitars
Tim Nedergård – guitars
Daniel Liljekvist – drums
Upcoming Shows:
18-20 August – Sabaton Open Air – Falun, Sweden
28-31 July – Castle Party Festival – Castle Of Bolków, Poland
14-15 October – Maximum Rock Festival – Bucharest, Romania
Lyric video for "Below Rise To The Above":
https://youtu.be/ex8ufngkKrA
The making of "Afterglow" studio video:
https://youtu.be/Kh1h1lo4VIw
Listen to "Afterglow" album in full:
https://youtu.be/S2ySsZPDhDc
IN MOURNING on-line:
Facebook: https://www.facebook.com/inmourningband
Instagram: https://instagram.com/inmourning/
Website: http://www.inmourning.net/
Agonia Records:
Website: http://agoniarecords.com
Webshop: http://tinyurl.com/agoniashop
Facebook: https://facebook.com/agoniarecords
Twitter: https://twitter.com/agoniarecords
SoundCloud: https://soundcloud.com/agoniarecords
Bandcamp: https://agoniarecords.bandcamp.com
Instagram: https://instagram.com/agoniarecordsofficial
YouTube: http://youtube.com/AgoniaRec
If you enjoyed this article, Get email updates (It's Free)
Use Facebook to Comment on this Post