THE MIDNIGHT GHOST TRAIN keeps rollin' again!The band's fourth opus titled 'Cypress Ave.' is set to be released July 28th 2017 on Napalm Records, and will surely become their most diverse and surprising album to date: Never before has THE MIDNIGHT GHOST TRAIN shown this side of themselves. Their new album 'Cypress Ave.' proves that they 're not just another rock band, they're explorers, risk takers, and true artists. This is not a departure, but an expansion, and will please both old and new fans alike.
Now THE MIDNIGHT GHOST TRAIN premiere their first music video for the track 'Red Eyed Junkie Queen', taken from the band's upcoming album'Cypress Ave.' and which gives some exciting in-depth view on behind the studio-scenes. Dive into the new tunes of Kansas' heavy blues rockers in THE MIDNIGHT GHOST TRAIN and check out their brand new video for 'Red Eyed Junkie Queen' right HERE, courtesy of The Obelisk.
Says vocalist & guitarist Steve Moss:
"This video is a way to show fans what it's like inside the studio with us, a sort of behind the scenes video. We took some cameras into the studio, and just shot random acts, and different pieces of the process over the course of the two weeks we were in there. Believe it or not, this is by far the heaviest song on the album. The driving heaviness of it it just seemed to fit the feel of working in the studio."

The Track Listing Reads As Follows:
1. Tonight
2. Red Eyed Junkie Queen
3. Glenn's Promise
4. Bury Me Deep
5. The Watchers Nest
6. Break My Love
7. Lemon Trees
8. The Boogie Down [ feat. Sonny Cheeba ]
9. Black Wave
10. The Echo
11. I Can't Let You Go [ Bonus Track ]
'Cypress Ave.', coming out July 28th on CD, LP Gatefold + Digital Download via Napalm Records, is an absolute must for every blues- and rock fan. Be prepared, when THE MIDNIGHT GHOST TRAIN are about to return with their most diverse and uniquely sounding album to date!
Pre-Orders of 'Cypress Ave.' are now available at the following link:
http://smarturl.it/CypressAve-NPR
To support the band's upcoming album live, THE MIDNIGHT GHOST TRAIN will heavily the road this year again, kicking off with an extensive US tour this summer. Make sure to catch THE MIDNIGHT GHOST TRAINwith their energetic live shows here:
THE MIDNIGHT GHOST TRAIN:
8/24: Ft. Worth, TX @ The Grotto
8/25: Austin, TX @ Swan Dive
8/26: Lafayette, LA @ Boom Boom Boom
8/27: New Orleans, LA @ Siberia
8/28: Jackson, MC @ TBA
8/29: Hattiesburg, MS @ TBA
8/30: Muscle Shoals, AL @ TBA
8/31: Pensacola, FL @ Handlebar
9/1: Charlotte, NC @ Snug Harbor
9/2: Atlanta, GA @ Masquerade W/ Camp Lo
9/3: Richmond, VA @ Banditos
9/6: Baltimore, MD @ TBA
9/7: Washington, DC @ Atlas Brew Works
9/8: Philadelphia, PA @ Kung Fu Neck Tie
9/9: Brooklyn, NY @ Gold Sounds
9/10: Connecticut @ TBA
9/11: Providence, RI @ Firehouse 13
9/12: Boston, MA @ O'Brien's Pub
9/13: Rochester, NY @ TBA
9/14: Cleveland, OH @ TBA
9/15: Indianapolis, IN @ Radio Radio
9/16: Detroit, MI @ The Rockery
9/17: Kalamazoo, MI @ TBA
9/18: Madison, WI @ Frequency
9/19: Green Bay, WI @ Gasoline
9/20: Dubuque, IA @ The Lift
9/21: Chicago, IL @ Reggie's Music Joint
9/22: Lexington, KY @ Green Lantern
9/23: Newport, KY @ Southgate House Revival
9/24: Nashville, TN @ TBA
9/25: Charleston, SC @ TBA
9/26: Raleigh, NC @ TBA
9/27: Charleston, WV @ The Empty Bottle
9/28: Canton, OH @ The Buzzbin Shop
9/29: Dayton, OH @ Blind Bob's
9/30: Pittsburgh, PA @ Descendants of Doom Fest*
*Festival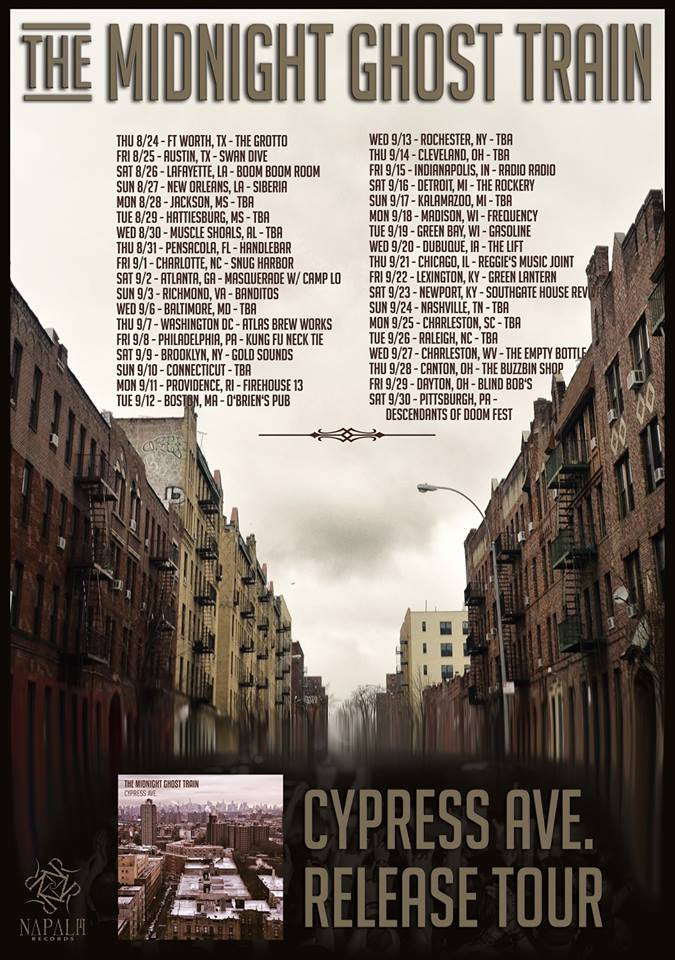 More dates to be announced soon!
For More Info Visit:
www.facebook.com/themidnightghosttrain
www.themidnightghosttrain.com
www.napalmrecords.com
www.facebook.com/napalmrecords
If you enjoyed this article, Get email updates (It's Free)
Use Facebook to Comment on this Post