Long Distance Calling are set to release their new album 'TRIPS' this Friday, April 29th via InsideOut Music. In anticipation, the band have launched another album teaser which you can see here: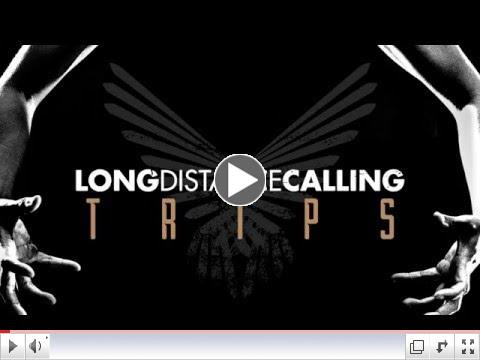 You can pre-order the album from the InsideOut Music Shop.
and iTunes:
The album has already been receiving some great reactions, and you can find a selection of them below:
"This is a group that can swell with the range of an orchestra in terms of tone, texture and volume…How Long Distance Calling progress from here remains to be seen, but they couldn´t have asked for a better start." – PROG Magazine
"Incredible! Long Distance Calling at their very best!" – Boris Kaiser/Rock Hard
"… Long Distance Calling defy all expectations and deliver yet another masterpiece" – Metal Hammer Germany
"Germany's most exciting band transcending prog and metal!" – VISIONS
"Moving and intense! The best album of their career!" – eclipsed
"Fascinating hooks, spheric melodies and great songs – an exciting trip to the dark side of the moon" – GUITAR
The band also begin their European tour this week, details of which you can find below:
Presented by VISIONS, ROCK HARD, GUITAR, GITARRE&BASS, ECLIPSED, AMPYA, METAL.DE
28th April
– Skater's Palace, Münster, Germany
29th April
– Uebel & Gefährlich, Hamburg, Germany
30th April
– Mau Club, Rostock, Germany
2nd May
– UT Connewitz, Leipzig, Germany
3rd May
– Musik & Frieden, Berlin, Germany
4th May
– Kulturkirche, Köln, Germany
5th May
– Backstage Halle, München, Germany
6th May
– Substage, Karlsruhe, Germany
7th May
– KiFF, Aarau, Switzerland
8th May
– Le Batofar, Paris, France
9th May
– 013, Tilburg, Netherlands
10th May
– Boston Music Room, London, UK
11th May
– Exchange, Bristol, UK
12th May
– Brudenell Social Club, Leeds, UK
13th May
– Craufurd Arms, Milton Keynes, UK
The band recently launched the brilliant 80's-inspired video for the albums opening track 'Getaway', featuring German actor Ralf Richter (Das Boot, Bang Boom Bang). You can watch the video here: https://youtu.be/ZAyxBcnglSw
The album will be released as limited mediabook CD with one bonus track, as gatefold 2LP with etching (incl. the album on CD), and as digital download with two bonus tracks.
The full track-listing for 'TRIPS' is as follows:
1.     Getaway
2.     Reconnect
3.     Rewind
4.     Trauma
5.     Lines
6.     Presence
7.     Momentum
8.     Plans
9.     Flux
LONG DISTANCE CALLING online:
INSIDEOUTMUSIC online:
If you enjoyed this article, Get email updates (It's Free)
Use Facebook to Comment on this Post