2012 was an incredible year for album releases.  Looking through all the collection through various genres of metal it was nearly impossible to choose 10. But after lots of thinking this is the 10 that made the cut.
10. The 69 Eyes – X
Not cheesy but yes slightly romantic goth metal.  Although completely different from everything listed on here its still a great album.  Its one of those that you hate to admit but you actually really love.  No shame here, everyone should listen to this album because it will get stuck in your head.
9.  Primal Fear – Unbreakable
POWER METAL YES! Unbreakable was a very wicked album.  Those high screams and amazing guitar rifts can only make you feel mighty.  The album was stellar and was probably on of the best power metal albums that came out this year.  As always Ralf Scheepers voice shines every track and reminds you why Primal Fear is so awesome.
8. Moonspell – Alpha Noir
This album was great from beginning to end.  Moonspell is a very original band and they have created such a unique sound.  This album is much different from Night Eternal but still breathtaking.  Romantic and as dark as ever every track on this album was pretty heavy.
7. Burzum – Umskiptar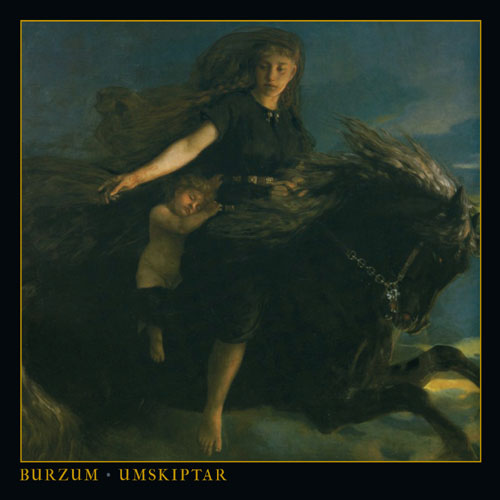 Alluring old sounding black metal.  Nothing can beat history in the making of the most infamous band Burzum.  Umskiptar is a very majestic album and all solely written by Varg Vikernes.  The soothing sound of Varg's clean vocals sound so classic and charming.  The keyboards that he included on the album were very delicate sounding the whole album will truly captivate you.
6. Epica – Requiem For The Indifferent
The beautiful talented gorgeous Simone Simons accompanied by the amazing men: Mark Jansen Isaac Delahaye, Rob van der Loo, Coen Janssen, Ariën van Weesenbeek made a beautiful album.  Its different new and innovative and show cases Simone's voice in different styles than previously done.  Almost anything Epica does is enchanting and amazing, this album was no different.
5. Varg – Guten Tag
German Pagan Metal band Varg is a new favorite personally.  This album is much different from there older material more modern and the band was able to experiment with whatever they wanted.  It really is a very catchy album and once you hear it you can't get it out of your head.  Its new different and very unique.
4. Kreator – Phantom Antichrist 
Filled with hate, anger and rage that must only be Phantom Antichrist.  Kreator is another one of those classic bands that never disappoints their fans.  This album was incredibly vicious and sick as ever.   Mille's voice is still great today as it was in the 80's.
3. Goatwhore – Blood for the Master
GOATWHORE absolutely one of my favorite bands and Blood for the Master was an incredible album.  Released on Valentines day it couldn't get anymore romantic than this.  Ben's vocals & the deep heavy rifts are what make this album one of the greatest this year. The album is much different from Carving Out the Eyes of God but still ruthless and powerful.
2. Cannibal Corpse – Torture
Cannibal Fu**ing Corpse is all that needs to be said.  After 12 albums its amazing to still know the band still has it.  Cannibal Corpse is like one of the most classic death metal bands who are still considered one of "the big guys" in metal.  The whole album was filled with some crazy guitar solo's and intense vocals.  It's great to know that Cannibal Corpse can never disappoint and will continue to make killer albums.
1. Wintersun – Time I
This has to be the most incredible album of 2012.  Not only did it take many years to write and record by Jari Mäenpää but it was magnificent.  From incredible instrumental songs to some of the most beautiful vocals and rifts I have ever heard.  This is only the first half of the album that was broken up into two pieces.  Just to think that there will be a second release sends chills down my spine.  Jari has to be one of the most talented individuals ever in metal history.  From writing and recording everything himself and taking his sweet time to make sure he was satisfied with it himself shows what love and passion this album took to creat.  This is one of those albums that will bring you to tears because of how amazing of a masterpiece it is.
Over all 2012 had a lot of big names in the mix.  Everyone's album was great. Can't wait for 2013 releases.
If you enjoyed this article, Get email updates (It's Free)
Use Facebook to Comment on this Post