IMMINENT SONIC DESTRUCTION and EDENSONG are pleased to welcome progressive rockers NEXT TO NONE (featuring Mike Portnoy's son, Max Portnoy), DISTRICT 97, and HALF PAST FOUR as the local support in select markets for their forthcoming North American tour. While HALF PAST FOUR will be the special guests on the tour's kick off at Hard Luck Bar in Toronto, O.N., DISTRICT 97 can be caught at the band's Chicago, I.L. stop while NEXT TO NONE will conclude the tour in New York City at Drom. The full itinerary is available below.

HALF PAST FOUR keyboardist IGOR KURTZMAN commented: "Having met the band years ago at Nearfest and later sharing the stage with them in New York, we are particularly excited to play with one of our favorite prog bands EDENSONG once again."
MAX PORTNOY, drummer of NEXT TO NONE, added: "NEXT TO NONE is psyched to play on the last night of the EDENSONG/IMMINENT SONIC DESTRUCTION Tour…playing in NYC is always awesome and we can't wait to see ya there!"
Continued DISTRICT 97 drummer JONATHAN SCHANG: "DISTRICT 97 is really looking forward to sharing the stage with our Laser's Edge labelmates EDENSONG and our brothers-in-arms IMMINENT SONIC DESTRUCTION! Opening the night is Nomadic, a great Chicago-based fusion band. This will most certainly be a night to remember!"
IMMINENT SONIC DESTRUCTION, last seen on tour with Norwegian Prog Metal outfit Circus Maximus in 2016 have since released their critically acclaimed sophomore album Triumphia on Luxor Records. Triumphia has been described as having "…tons of melody, outstanding vocals …and superior songwriting skills" by WeLoveMetal.com. TheProgMind.com says of the album, "… you can tell this album was made with passion and heart, and that the band is having the time of their lives."
EDENSONG's 2016 album Years in the Garden of Years, their first for Laser's Edge, has been dubbed "a more than worthy successor" to their acclaimed 2008 debut release The Fruit Fallen by Ytsejam.com, deemed " …truly a breath of fresh air." by Chris Herin (Tiles/Discipline) and called "…intelligent, clever, exciting and technically excellent new music." by Ian Anderson (Jethro Tull).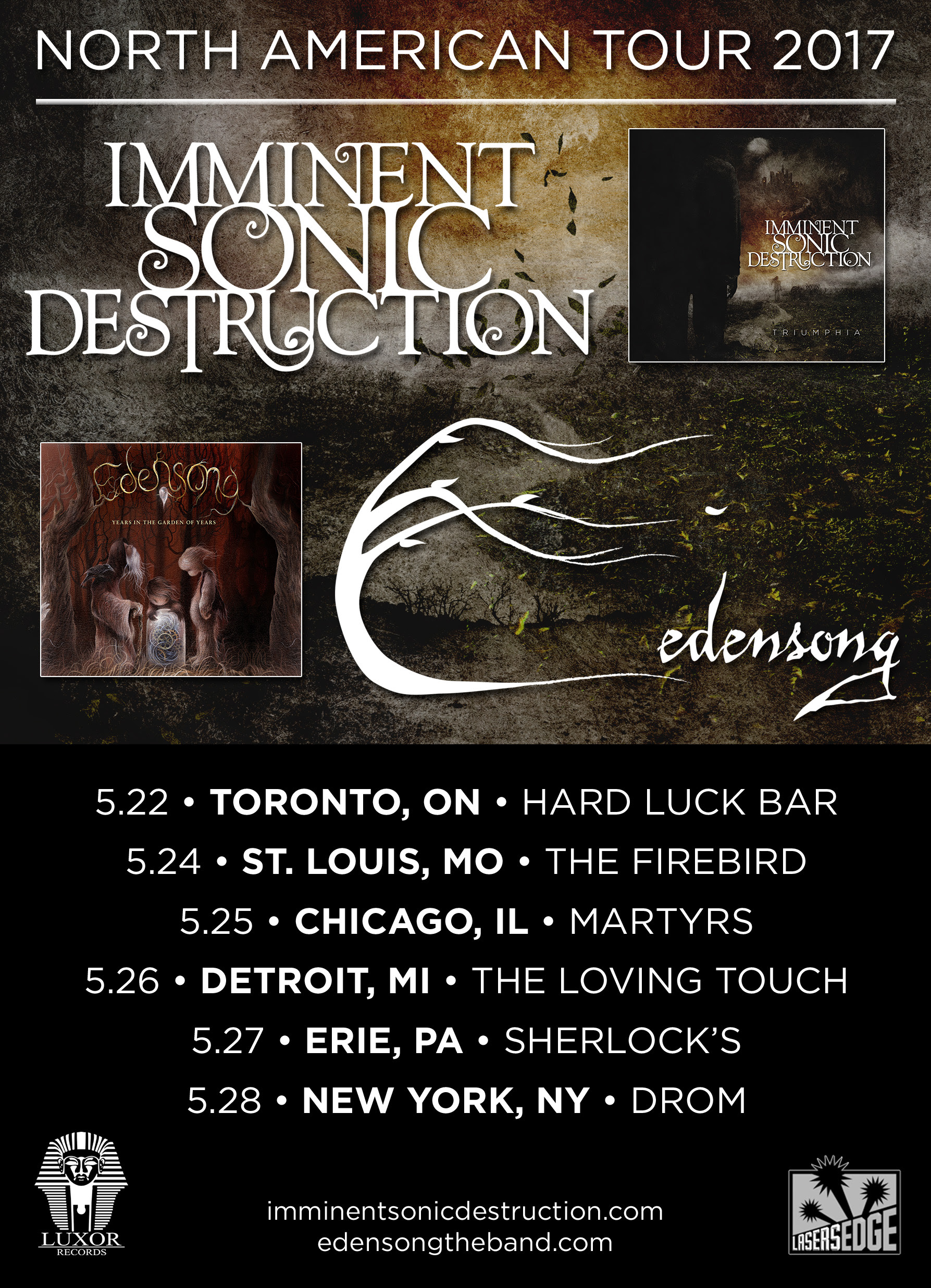 See IMMINENT SONIC DESTRUCTION and EDENSONG on the following dates:
May 20, 2017 – Terra Incognita Festival, Quebec City, Canada (Edensong only)
May 22, 2017 – Toronto, Canada @ The Hard Luck Bar
May 24, 2017 – St. Louis, Missouri @ The Firebird
May 25, 2017 – Chicago, Illinois @ Martyrs
May 26, 2017 – Detroit, Michigan @ The Loving Touch
May 27, 2017 – Erie, Pennsylvania @ Sherlock's
May 28, 2017 – New York City, New York @ DROM
IMMINENT SONIC DESTRUCTION released their debut "Recurring Themes", produced by Roy Z (Halford, Bruce Dickinson), in 2012 and their follow-up concept album TRIUMPHIA in 2016. They have toured the U.S. and Canada in support of the album alongside progressive rock and metal heavyweights Pain of Salvation, Kingcrow, Next To None, Fates Warning and Circus Maximus.
EDENSONG released their debut album The Fruit Fallen in 2008 and their follow-up album Years in the Garden of Years in 2016. They have opened for acts ranging from Carl Palmer (ELP), Neal Morse (Spock's Beard), Pain of Salvation, Anglagard, Glass Hammer and more.
For more information on IMMINENT SONIC DESTRUCTION, please visit:
www.imminentsonicdestruction.com
www.facebook.com/imminentsonicdestruction
http://soundcloud.com/imminentsonicdestruction
https://instagram.com/imminentsonicdestruction
For more information on EDENSONG, please visit:
If you enjoyed this article, Get email updates (It's Free)
Use Facebook to Comment on this Post