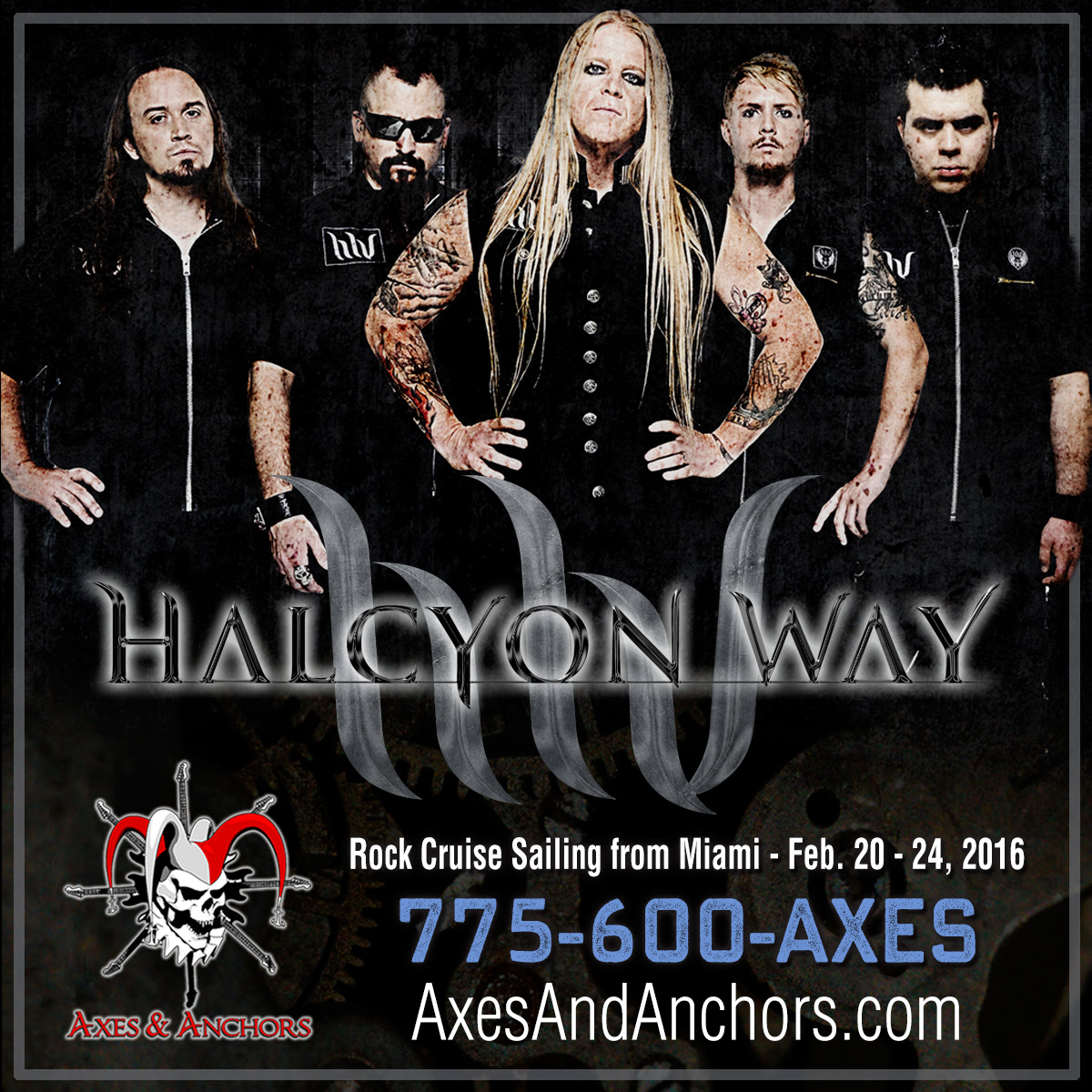 Atlanta, Georgia's HALCYON WAY are currently on the road with the legendary Queensryche as part of month-long USA tour to support their Billboard-charting 4th album, Conquer. The tour stops tonight in Washington, DC and runs through February 4th in Salt Lake City, UT, a complete list of dates is below.
In addition to their current tour, HALCYON WAY have now confirmed that they will be taking part in the "Axes and Anchors Cruise" set for February 20th – February 24th.  The cruise which is the "First Ever Guitar Dominated Cruise" sees HALCYON WAY play alongside guitar legends including: Breaking Benjamin, Zakk Wylde, Yngwie Malmsteen, Marty Friedman, Michael Schenker, Alex Skolnick and many others.  Pricing, full lineup and all other pertinent information can be found HERE.
Singer Steve Braun on the upcoming trip to the high seas:
"We're super pumped about heading out on the seas to play this cruise, and it's super refreshing to know that we'll finally be warm after all of the shows in the North during the blizzard on our tour with Queensryche.  Cabins are still available for the cruise so be sure to grab one so you can thaw out with us.  PS, Ernie and I will be wearing Speedos on stage, so you definitely want to be there."
Conquer (the band's latest album) hit the shelves to universal critical acclaim in August of 2014 and the band has performed on three continents since then to promote its release.  The lead single, "Web Of Lies" spent 6 weeks on the CMJ Hard Top 10.  Conquer was produced by guitarist Jon Bodan and Lasse Lammert (Alestorm, Gloryhammer), who has mixed all of the band's releases.
Check out the video for the song "Web of Lies" HERE.
The band recently started pre-production for the follow-up to Conquer and plans to hit the studio in Spring of 2016.
HALCYON WAY W/ Queensryche
1/25: Washington, DC @
9:30
Club
1/27: Cincinnati, OH @ Bogart's
1/28: Peoria, IL @ Limelight
1/29: Turtle Lake, WI @ Croix Casino
1/30: Milwaukee, WI @ The Rave
1/31: Chicago, IL @ Concord Music Hall
2/2: Kansas City, MO @ Knuckleheads
2/3: Denver, CO @ Summit Music Hall
2/4: Salt Lake City, UT @ In the Venue
HALCYON WAY On Axes and Anchors Cruise:
2/20 – 2/24: Sailing From Miami, FL
For More Info Visit:
"I absolutely recommend it to people like myself who love catchy choruses, ripping grooves, powerful melodies and mesmerizing solos. Without saying another word, Conquer is by and large the perfect musical package this year for me and that really says a lot."
– New Noise Magazine (5/5) –
"The true meaning of "Conquer" is that Halcyon Way has struck a chord of near perfection with an infallible modern metal sound."
– Metal Underground (4.5/5)
"12 high-caliber songs decorated with catchy choruses, huge hooks, chugging riffs and soaring vocal harmonies."
– BraveWords (8/10)
"Album Of The Month" – "their crowning achievement…one of the more unique bands in metal"
– MetalReviews.com (91/100)
If you enjoyed this article, Get email updates (It's Free)
Use Facebook to Comment on this Post