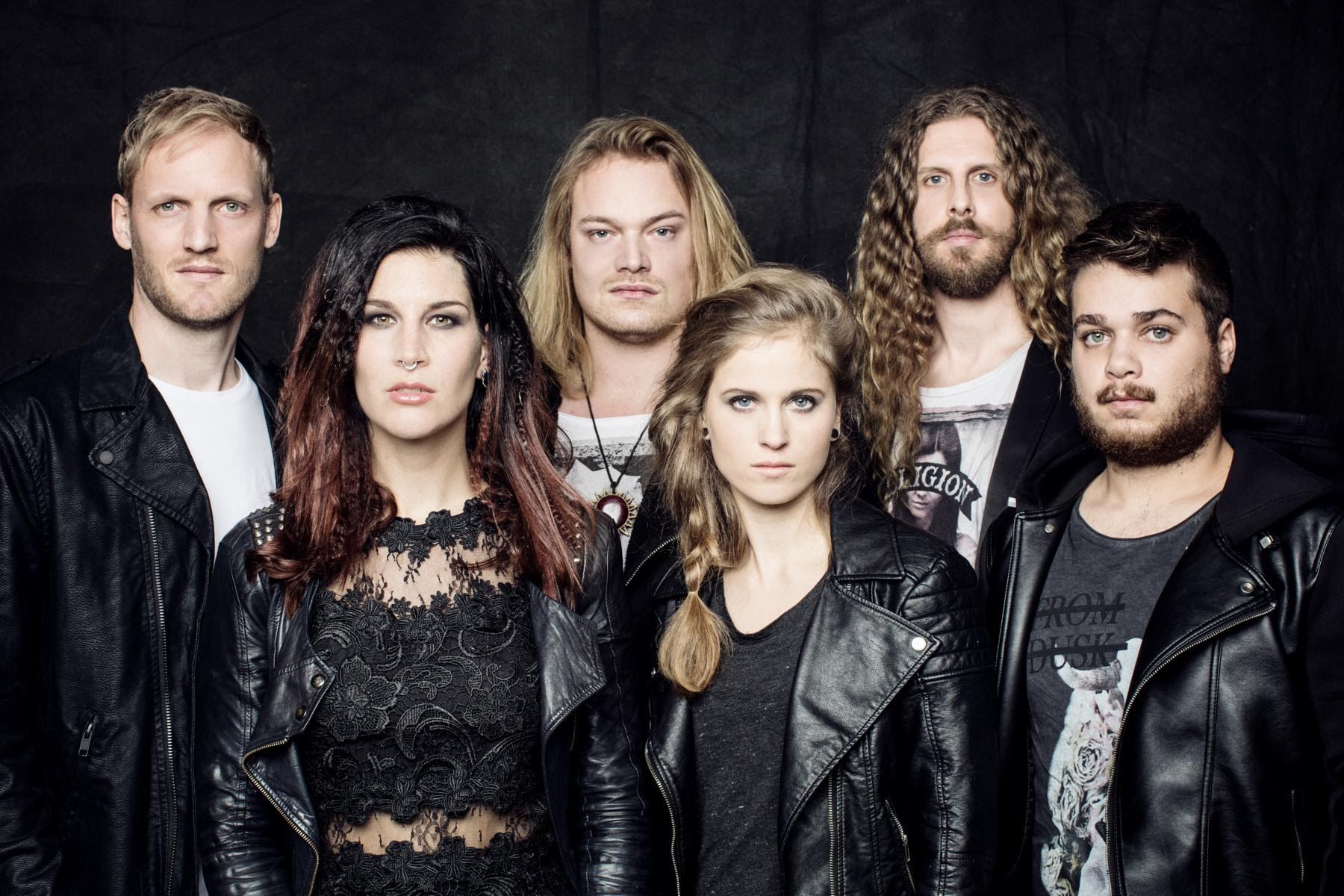 DELAIN seem to be restless spirits: Their latest album The Human Contradiction was released in 2014 on Napalm Records and gained high praise from both fans and the press alike. DELAIN followed up the release by touring the world with acts such as Sabaton, Within Temptation, and Nightwish, followed by a European headline tour that saw them conquering stages in sold out venues all over! Yet instead of resting on their success, DELAIN have hit the studio again to present a brand new epic endeavor:Lunar Prelude – the exciting EP by DELAIN, set to be released this Friday.February 19, 2016 on Napalm Records! Preview Lunar Prelude in full HERE
The Track Listing of Lunar Prelude will read as follows:
1.    Suckerpunch
2.    Turn the Lights Out
3.    Don't Let Go
4.    Lullaby (Live 2015)
5.    Stardust (Live 2015)
6.    Here Come the Vultures (Live 2015)
7.    Army of Dolls (Live 2015)
8.    Suckerpunch Orchestra
'Don`t Let Go' (taken from 2014`s The Human Contradiction) comes in a brand new version, while the EP also contains four incredible live cuts, as well as an orchestral reprise of 'Suckerpunch', all of which proving once again how DELAIN are blatantly known for their extremely catchy hooks, bewitching melodies, symphonic bombast, and of course a good solid dose of Metal!  "Suckerpunch" as already premiered as music video HERE.
DELAIN have concocted a mesmerizing kaleidoscope of emotions, and with the EP title featuring the tell-tale word "Prelude", our hunger is left to grow for a next full-length album…coming in 2016!
Get your copy HERE.
Catch DELAIN live in 2016 on the following dates & festivals!
DELAIN headlining shows:
07.04.2016 – NL – Vredenburg, Utrecht
23.04.2016 – NL – Boerderij, Zoetermeer
21.05.2016 – NL – Dynamo, Eindhoven
30.09.2016 – NL – Luxor, Arnhem
01.10.2016 – NL – Gebouw-T, Bergen op Zoom
US Tour – in support of NIGHTWISH:
2/19/2016 Starland Ballroom – Sayreville, NJ
2/20/2016 Webster Theater – Hartford, CT
2/21/2016 Metropolis – Montreal, QC CANADA
2/22/2016 Music Hall – London, ON CANADA
2/24/2016 Carnegie Music Hall – Pittsburgh, PA
2/25/2016 LC Pavilion – Columbus, OH
2/26/2016 Royal Oak Music Theatre – Royal Oak, MI
2/27/2016 Rave – Milwaukee, WI
2/29/2016 First Avenue – Minneapolis, MN
3/01/2016 Burton Cummings Theatre – Winnipeg, MB CANADA
3/02/2016 O'Briens Events Center – Saskatoon, SK CANADA
3/03/2016 Winspear Center – Edmonton AB CANADA
3/05/2016 MacEwan Hall Ballroom – Calgary, AB CANADA
3/06/2016 Wilma Theatre -Missoula, MT
3/07/2016 Showbox SoDo – Seattle, WA
3/08/2016 Knitting Factory – Boise, ID
3/10/2016 Knitting Factory – Reno, NV
3/11/2016 City National Civic of San Jose – San Jose, CA
3/12/2016 The Grove – Anaheim, CA
3/14/2016 Rialto Theatre – Tucson, AZ
3/15/2016 City Auditorium – Colorado Springs, CO
3/16/2016 Uptown Theater – Kansas City, MO
3/18/2016 Diamond Ballroom – Oklahoma City, OK
3/19/2016 Aztec Music Hall – San Antonio, TX
3/20/2016 New Orleans Civic Theatre – New Orleans, LA
3/21/2016 Iron City Live – Birmingham, AL
3/23/2016 The Ritz – Tampa, FL
Festivals 2016:
HELLFEST
DOWNLOAD FESTIVAL UK
OUT AND LOUD FESTIVAL
GRASPOP METAL MEETING
TUSKA OPEN AIR
METAL HEAD MEETING
METALFEST
BANG YOUR HEAD
METAL DAYS
For More Info Visit:
www.delain.nl
www.facebook.com/delainmusic
If you enjoyed this article, Get email updates (It's Free)
Use Facebook to Comment on this Post