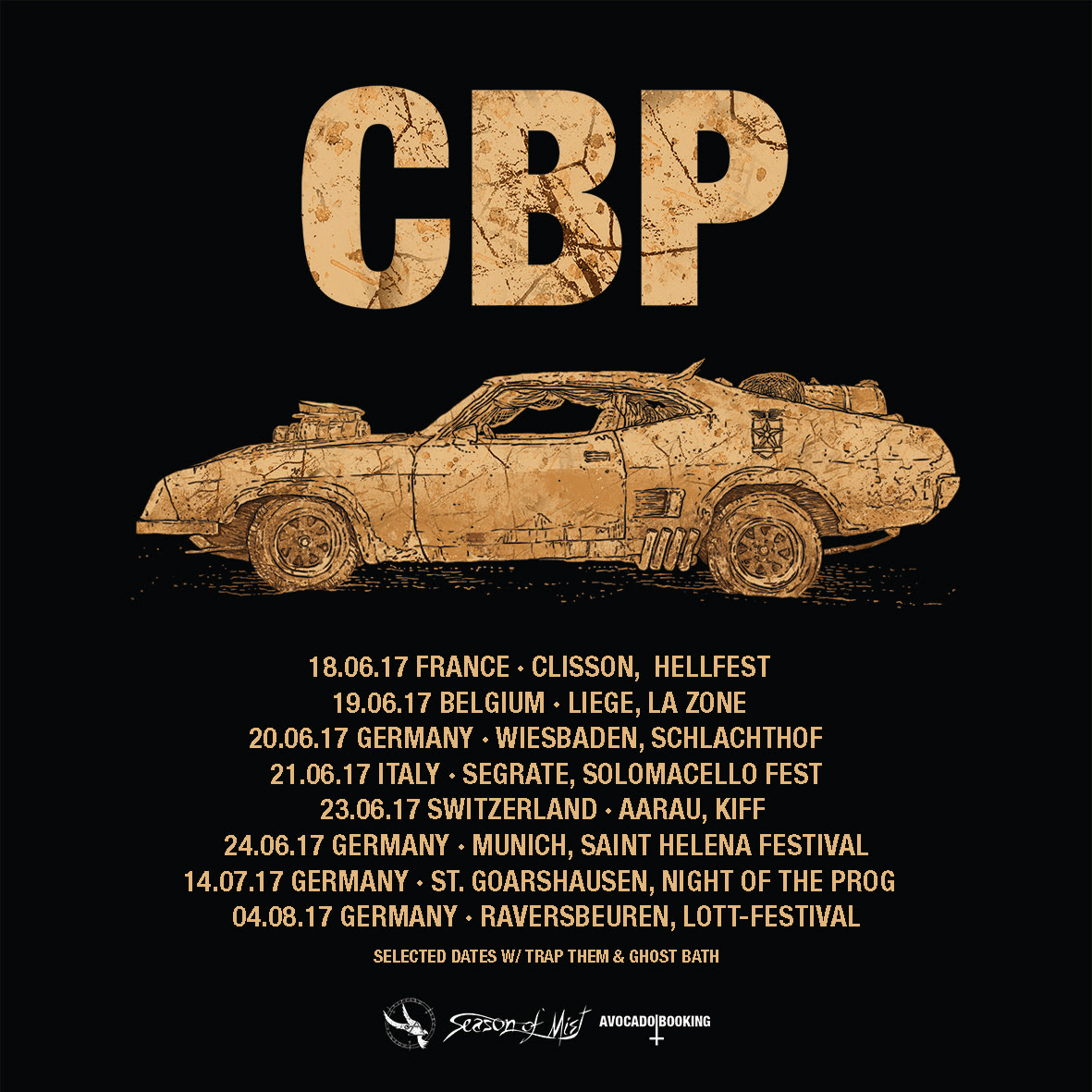 International dark rock collective CRIPPLED BLACK PHOENIX have announced a European summer festival tour. The band will kick off their tour at Hellfest in France on June 18, and continue through select dates in June, July, and August. A full list of confirmed tour dates can be found below.
Regarding the tour, CRIPPLED BLACK PHOENIX founding member and vocalist Justin Greaves comments: "Hello rockers! We are stoked to bring a fine selection of our songs to you this summer. Make sure to catch our shows this time round; we are not the most touring band. See you in the sun!"
CRIPPLED BLACK PHOENIX are touring in support of their new album, 'Bronze'. 'Bronze', a slow-burning mix of unique and soaring post-rock, is described as CRIPPLED BLACK PHOENIX's "darkest, most evocative and psychedelic release yet, sounding at times like a cross between Deep Purple and Pink Floyd, with slivers of Ennio Morricone." (Bandcamp Daily) and is streaming here. 'Bronze' is available at the Season of Mist E-Shop.
CRIPPLED BLACK PHOENIX have released an animated music video for the track "Scared and Alone", off their recently released full-length, 'Bronze'. The video was animated by Costin Chioreanu (GHOST, OPETH,), is streaming now at PopMatters.
The album artwork and track list for 'Bronze' can be found below:
Track List:
1. Dead Imperial Bastard
2. Deviant Burials
3. No Fun
4. Rotten Memories
5. Champions Of Disturbance (Pt 1 & 2)
6. Goodbye Then
7. Turn To Stone
8. Scared And Alone
9. Winning A Losing Battle
10. We Are The Darkeners
Stream Bronze on Bandcamp
Stream Bronze on Spotify
Founded by multi-instrumentalist Justin Greaves, the inimitable CRIPPLED BLACK PHOENIX have earned a large cult following on the backs of their extensive catalog.
CRIPPLED BLACK PHOENIX news and updates will be made available through the Season of Mist website, and the CRIPPLED BLACK PHOENIX Facebook page.
CRIPPLED BLACK PHOENIX
Jun. 18 Clisson (FR) @ Hellfest
Jun. 19 Liege (BE) @ La Zone (+Trap Them)
Jun. 20 Wiesbaden (DE) @ Schlachthof (+Trap Them)
Jun. 21 Segrate (IT) @ SoloMacello Fest
Jun. 23 Aarau (CH) @ Kiff (+Trap Them +Ghost Bath)
Jun. 24 München (DE) @ Saint Helena Festival
Jul. 14 Sankt Goarshausen (DE) @ Night of the Prog
Aug. 4 Raversbeuren (DE) @ Lott-Festival
If you enjoyed this article, Get email updates (It's Free)
Use Facebook to Comment on this Post