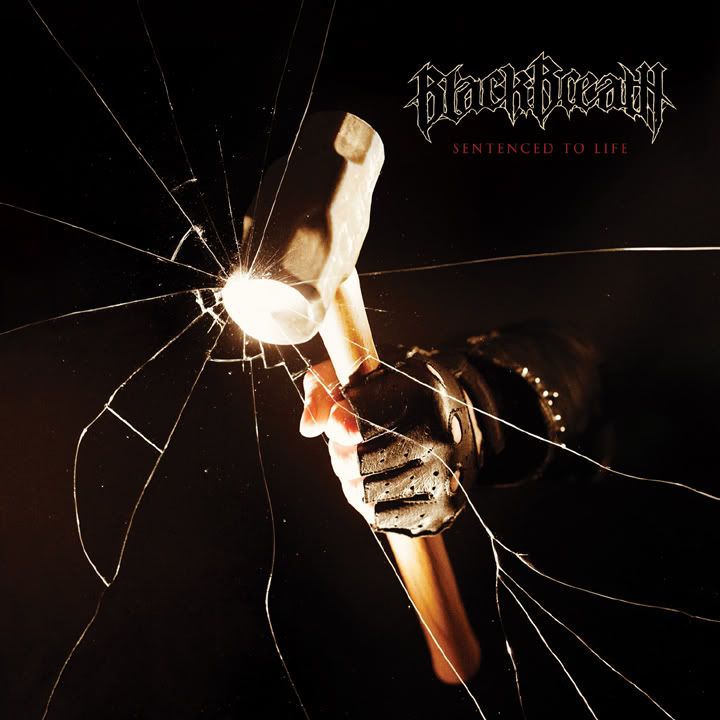 Black Breath has been around for a few years. They do play old-school influenced metal, but they've done it better than just about anyone else since their inception. They blew me away when I saw them in 2010 with Converge, Coalesce, and Gaza. They now have an EP and two albums under their belt. Sentenced to Life is their second album, released under the increasingly eclectic Southern Lord Records. I'm not even going to try to build anticipation: this album fucking rules.

From the beginning of "Feast of the Damned", you're whisked away to a wonderland of hardcore-influenced thrash metal that just makes you want to bang your head nonstop. The only real respite in this is in the best song of the album in this reviewer's opinion, "Endless Corpse". It starts off with this almost B-Horror movie intro – very eerie. Then the song kicks in, and you bang your head harder. Although a lot of these songs sound very similar, they don't get stale. Not at all. Perhaps it's because what they're doing is so unique in the scene: not many bands can pull off this crossover combination smoothly. They know when to slow the headbanging down ("Of Flesh", "The Flame") yet never make it stop.
Overall, this is some of the best mosh-friendly music I've listened to in a long time. As I said last year, I believe that as of recent, reviving older genres and reinventing them is really big these days. Very few of the good ones make it mosh friendly (would you mosh during a Ghost set?). Black Breath's new album improves upon what they've done in Heavy Breathing by leaps and bounds. They're going to make so many new fans, and rightfully so. They're also going to send so many people to the doctor's office. Not even kidding. My neck hurts now. This is an early contender for album of the year for me. Not even kidding.
Track Listing:
1. Feast of the Damned
2. Sentenced to Life
3. Forced into Possession
4. Home of the Grave
5. Endless Corpse
6. Mother Abyss
7. Of Flesh
8. Doomed
9. The Flame
10. Obey
http://youtu.be/QhJ9pAnSTug
If you enjoyed this article, Get email updates (It's Free)
Use Facebook to Comment on this Post