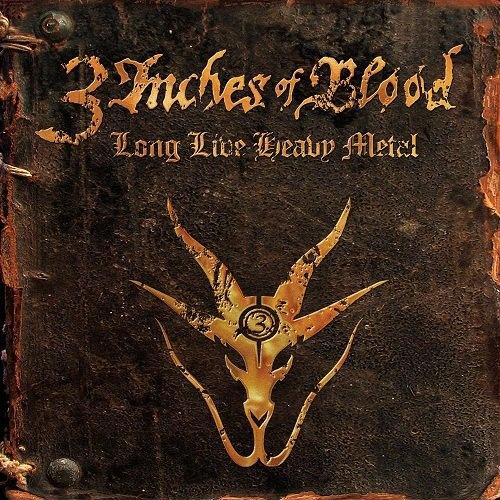 Canada's very own heavy metal band 3 Inches of Blood have just come out with their latest album called "Long Live Heavy Metal."  With a name like that you can already expect the extreme high vocals, shredding incredible guitar solos and the craziest beats you can imagine.   The band previous studio album was released in 2009, "Here Waits Thy Doom."  The album is being released later this week through Century Media.  Current band line up is Cam Pipes  (Lead Vocals), Justin Hagberg  (Rhythm/Lead Guitar & Vocals), Shane Clark (Lead/Rhythm Guitar), Ash Pearson (Drums), Byron Stroud (Bass.)

The first song off the album is called "Metal Woman."  It starts off with a very heroic sounding guitar intro that later jumps right into Pipes infamous scream;  its pure classic heavy metal at its finest.  "My Sword Will Not Sleep," is a great song that will keep you engaged.  "Leather Lord," this song has such a killer intro.  You can hear some Judas Priest & Iron Maiden influences in the song.  After you hit a minute 20 sec. you get some more intense vocals with low pitch growls that will send you through the roof.  The guitar solos are very clean crisp and have amazing harmonies.  "Chief And The Blade," is an acoustic very laid back song that's very pretty; it's a little break from the two songs before.  "Dark Messenger," is has amazing lyrics.  After listening you'll be on edge hearing every word Pipe blasts out of his vocal cords.  After really getting into the song you start to paint a picture in your mind from all the words he says.  The imagery he describes is pretty amazing; you can feel the dark messenger in the song.  The sixth track off the album is  "Look Out," its a very epic song, again the lyrics are very vivid and try to transcend you into another time.  The guitar solos in this song are so beautiful Shane & Justin really out did themselves. The drums & bass are spectacular, Ash & Byron were top-notch on the recording.
Half way through the album we hit a song called "4000 Torches," which keeps things upbeat and right on track.  "Leave It On The Ice," is one of the faster songs on the album; it starts off with high drum energy;  its one of those songs you already know when they play it live the crowd will go wild. The 9th song  "Die For Gold (Upon The Boiling Sea IV)," is a great tune that has it all, it will leave you screaming Die over and over again once your done listening to it.  Storming Juno again you hear that Iron Maiden influence in the beginning which is brilliant.  High and low vocals battling each other throughout the song and harmonizing together followed by amazing guitar rifts.  This song has some really technical guitar solos.  You can really feel this song build up and really demonstrates the band put lots of effort into this song.  There are small details that you can pick up on where you hear so many influence from other bands and you can still hear their core style just shine right through.  "Men Of Fortune," sounds like a very triumphed song.  It tells a story and as you hear it you can feel the majestic tone it gives off. Half way through the song slows done and has clean vocals.  I personally loved this special touch because it made the song seem more grand and gives you a feeling that your listening to a legendary tale. We come to a close with  "One For The Ditch." Starts off with acoustic guitars then goes into electric guitars and the song is very harmonious and brings leaves you with the feeling of a long journey that has been accomplished.
"Long Live Heavy Metal," is seriously outstanding album although the album although it is very different from all their previous ones.   It's nice to see the progression and style change of the band throughout the years.  This album had everything from amazing lyrics that painted such vivid pictures, to excellent guitar rifts that shred like no other, the bass and drums were perfect.  The album was well throughout and came together very nicely.  Fans will definitely appreciate it and love it just as much as I did.
Track List (personal picks*)
1. Metal Woman
2. My Sword Will Not Sleep
3. Leather Lord*
4. Chief And The Blade
5. Dark Messenger*
6. Look Out
7. 4000 Torches
8. Leave It On The Ice
9. Die For Gold (Upon The Boiling Sea IV)
10. Storming Juno**
11. Men Of Fortune
12. One For The Ditch*
If you enjoyed this article, Get email updates (It's Free)
Use Facebook to Comment on this Post